From different mortgage types to different lenders and interest rates, it can be challenging to understand the essentials of financing a home purchase. When making an uninformed decision can result in serious financial consequences, it's important to have a thorough understanding of the home loan process. Read through this guide for everything you need to know about mortgages before starting your own search.
What is a mortgage?
A mortgage is an agreement between a lender and a borrower to purchase a home without having the cash necessary to do so yet. Although the word loan can be used for mortgages, as it's an agreement in which you must pay back a sum, not all loans are mortgages. For example, you can take out student or auto loans to pay off your education or a vehicle. What makes a mortgage a mortgage is that if you can't pay it off, your home becomes collateral through foreclosure.

A mortgage consists of several different parts to be mindful of. The first part is the principal, which is the total amount you're borrowing after paying the down payment. The second part is the interest, which depends on your principal amount and mortgage rate. Through monthly payments, you'll pay off the principal and interest. A lender can also collect monthly homeowners' insurance premiums and property taxes. Lastly, lenders usually require mortgage insurance if you can't pay the loan. There is private mortgage insurance, which is required if your down payment is under 20% of your home's value, or separate insurance for government-backed loans.
Who's involved in the process?
There are two to three people involved in the mortgage process.
The lender
is the financial institution you go to to get a loan. This may be a bank, a credit union, or an online mortgage company. They'll check to make sure you're qualified to take out a loan based on factors like your credit score, assets, debt, and income.
The borrower, which is you in the situation, is a person applying for a loan. You're able to borrow by yourself, or you can add a co-borrower, like a spouse or family member. A co-borrower's income can help you become eligible for a larger loan. You may need a co-signer if you have a poor or no credit history. This person agrees to the loan with you and becomes responsible for paying off the mortgage if you default on it.
How to get a mortgage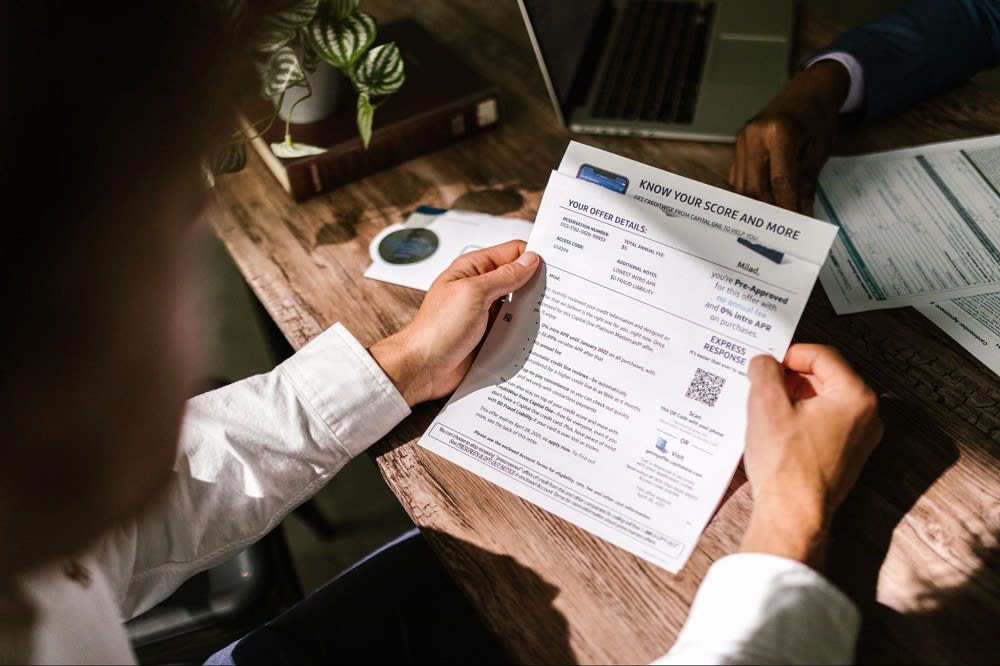 There are several points on a mortgage to know when starting your search, and when you know all the steps, it becomes a less complicated process. First, you need to review your credit report to ensure your credit score makes you eligible for a loan. A score should be 620 or higher to qualify. Then, you need to get preapproved for a mortgage. This isn't the same as prequalification, as that only provides you with an estimate of what you could borrow. A preapproval tells you how much you can actually borrow. This amount is affected by your credit, income, and debt.

Next, research different mortgage types, rates, and lenders. A more thorough overview of different mortgage types will be provided later. When you've found a property and negotiated an offer, submit your mortgage application to receive the funds. Then, get approved and close. Closing includes processes like paying closing costs, verifying your financial profile, and getting a home appraisal.
Different mortgage types
There are several mortgage loan types to be aware of when searching for the correct home loan. From conforming and nonconforming to government-backed and different rate types, here's what to know when you start your search.

Conforming vs. nonconforming
When applying for a mortgage, you can apply for
conforming and nonconforming loans
depending on how much you need to borrow. A conforming loan follows guidelines established by government-sponsored mortgage associations. An example of a conforming loan is conventional loans, which are mortgages not backed by the government, but that still follow agency standards.
Nonconforming loans are mortgages that don't follow established guidelines, whether you're a borrower who requires more money than limits allow based on your financial profile, or you're a borrower who doesn't have a credit score or debt-to-income ratio that meets a lender's requirement. An example of a nonconforming loan is a jumbo loan, which goes over regular loan limits and has stricter qualification requirements.

Government-backed
Another popular loan type is a government-backed mortgage. There are three types: FHA loans, VA loans, and USDA loans. FHA loans, backed by the federal housing administration, are what many first-time home buyers use. The necessary credit score and down payments for this mortgage type are usually lower, while the interest rates remain competitive with non-government-backed loans.

VA loans are backed by the U.S. Department of Veteran Affairs, and only people who are service members, veterans, or spouses of veterans can qualify for them. Perks like a waived down payment and private mortgage insurance are included, in exchange for a funding fee upfront. Lastly, USDA loans are financed by the U.S. Department of Agriculture and are designed for buyers in select rural areas.

Fixed vs. adjustable rate
Many buyers choose a fixed-rate mortgage when they agree on a mortgage rate that doesn't change through their payment period. This makes mortgage payments easy to plan for, as they're the same each month, and can be a good deal if you secure a low rate.

Adjustable-rate mortgages (or ARMs) fluctuate with interest rates after a set amount of time. Although there are benefits to ARMs, you can end up paying more on your mortgage when rates rise.
Ready to search for mortgages?
The truth about a mortgage is that figuring out how they work can be confusing to do on your own. If you're considering searching for a new home, contact trusted local agent
Sissy Bellar
to guide you through the process. Sissy and her team are experts in the real estate business and understand Tyler real estate and Bullard real estate well. Reach out today to get started!